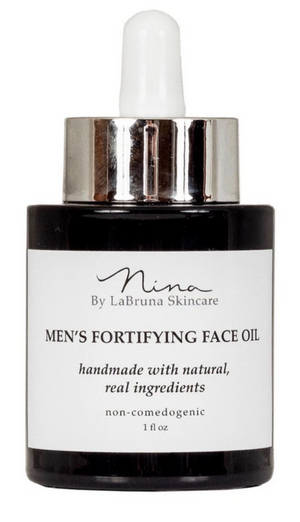 Nina by LaBruna Skin Care
Men's Fortifying Face Oil
Sale price Price $70.00 Regular price
Nina by LaBruna Skincare's Men's Fortifying Face Oil is packed with vitamins, antioxidants and fatty acids, which aid in skin regeneration and repair.

The unique blend of non-comedogenic oils will not clog your pores and can aid in the reduction of inflammation and acne. Siberian Sea Buckthorn Oil improves blood circulation and facilitates oxygenation, while black Cumin Seeds' anti-inflammatory, antibacterial, and antifungal properties aid in healing minor cuts and abrasions and help reduce scarring and acne. Chironji seed oil from India provides a powerhouse of nutrients including Vitamins C, B1 and B2, while St. John's Wort oil aids in the healing of nicks, abrasions and bruising. Borage, Bhindi, Pomegranate and Pumpkin oils infuse the skin with antioxidants and essential fatty acids. This blend of essential oil helps reduce the frequency of ingrown hair follicles while stimulating the senses with their all natural essence. 1 fl oz.
Apply a few drops day and night to face and decolletage after cleansing.
Ingredients:
Sea Buckthorn, Black Cumin Seed, Ricinus communis, Chironji, St. John's Wort, Bhindi, Borage, Pomegranate, Pumpkin Seed Oils and Cedarwood, Sandalwood, Lavendar, Frankinsense and Chamomile essential oils