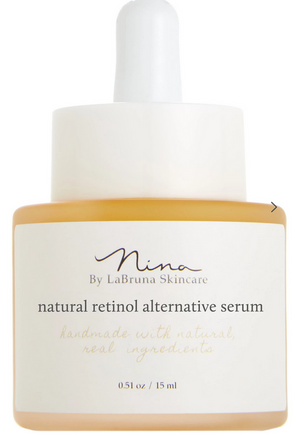 Nina by LaBruna Skin Care
Natural Retinol Face Serum
Sale price Price $35.00 Regular price
Handmade with a magical mixture of Natural Ingredients:
Cherry Kernel, Apricot, Jojoba, Grape, Baobab, Prickly Pear, Ricinus Communis, Bakuchiol, Hemp, Olea Europacea, Carrot Rosehip, Blueberry, Blackberry and Cloudberry Seed Oils, Chamomile and Boswelia Essential Oils.
Apply 3-4 drops and gently massage into face and decolletage. Unlike many Retinol products, this can be used in the morning to protect throughout the day.
Nina by LaBruna Skin Care Products are Vegan, Cruelty Free, Gluten Free, No Parabens, Sulfates, Phthalates, Artificial Colors or Fragrances.`